"A huge THANK YOU goes out to everyone that supported us to make this trip possible.
I wanted to share a few highlights from my Mother's bucket list trip to Niagara Falls. Renting an RV made the travel and accommodations comfortable for my mother given her medical needs, and allowed us to take everything imaginable just in case we needed it.
We arrived in Niagara on Friday night, after an interesting travel day, getting stopped in traffic for two hours at the Blue Water Bridge. My sister drove down from very upstate New York to meet us at the Yogi Bear Campground where we would call home for a few days. When the three of us are together, it doesn't matter where we are It becomes home. Family is what makes anyplace enjoyable and comfortable. The RV would be our home where we would spend time together laughing, smiling, and bonding.
Saturday started out with rain followed by rain and more rain through lunch. We shared a meal at the Flying Saucer Restaurant. This building literally looks like two flying saucers side by side for an out of this world fun filled environment with good food. After lunch we drove around town checking out a few sights and showing my Mom the Falls for the first time. As darkness came a collection of lights lilluminated the Falls beautifully showcasing both the US side and the Canadian side.
Sunday we spent some time at the Falls taking in the sights and sounds from the many viewing areas along the sidewalk. The sound of the Falls could be heard even inside the visitors center building. We also did Journey Behind the Falls, a self guided tour through the tunnels that take you literally behind the waterfalls. Being around that much moving water with all its power was pretty incredible!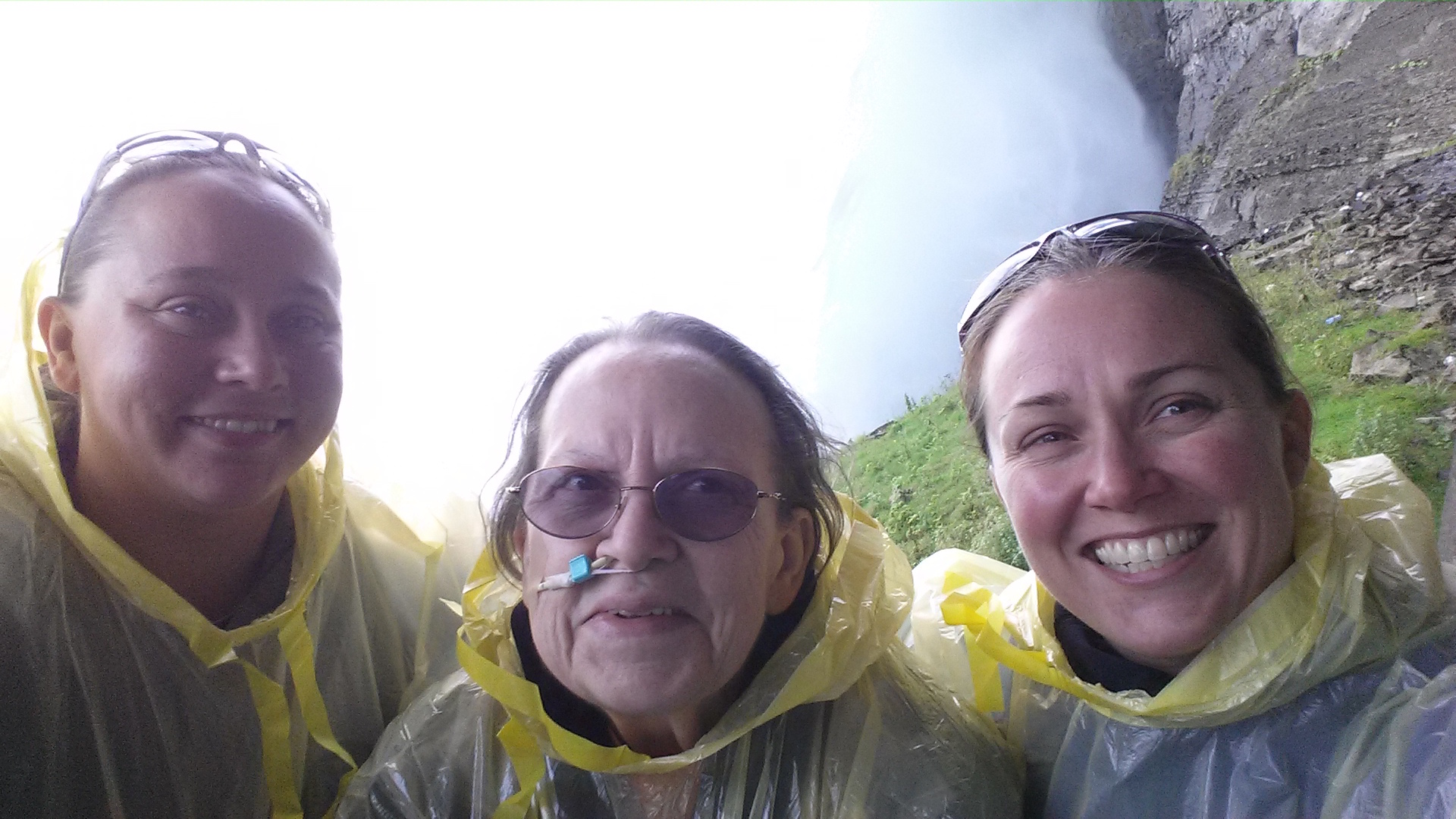 As the sun came out and shined the mist from the falls would create beautiful rainbows, double rainbows, and my mom even claims she saw a triple rainbow.
Winding down to Sunday night the three of us hung out, had a campfire and cooked burgers over an open flame, fulfilling one of my mothers other wishes: to eat a cheeseburger. While she could not eat the whole thing, the tiny bites she had were very delicious.
Overall this trip truly was wonderful, very enjoyable, and something I will always remember. I am very grateful, very thankful, and very humbled to have such a great support system of friends that help us take the journey.
Your generosity is so very much appreciated, I cannot thank each of you enough!"
Warmly,
Zandra Inman, Bikram Yoga Instructor