This article features husband and wife team Jon and Lori Witz. You will find these 2 yogis attending Bikram classes at the Troy studio, often next to each other in class. Their humor, positive energy, and support they have for each other and their fellow yoga students is really something special.

Jon and Lori are master organizers and naturally create fun and community wherever they go. One example is their support in creating "Bikram Yoga On The River" during the Detroit Riverfront Festival this June! 400 people attended from across the state and it was truly a great event

Thank you Jon and Lori for being such an inspiring couple, and for being such a positive contribution to our yoga family!

Interview with Team Witz:



Jon & Lori in Standing Bow Pulling Pose

What inspired you to start Bikram Yoga?

Lori: I heard some great things about Bikram Yoga from people in the yoga community where I had previously practiced. In fact, it was one cold January morning where the topic of Bikram Yoga came up the day prior, and I drove by and saw the studio. I was off and running from there.

Jon: I was inspired simply by Lori, who not only had a Bikram Yoga glow going at all times, but was always inviting me and encouraging me to join her. With a tough shoulder and not the best knee, I gave it a try about a year and a half into Lori's practice and have been steady since.

What did you think about your 1st class, and why did you come back for a 2nd class?

Lori: While I'm not a lover of the heat, and got knocked around pretty good in my first class, I fell in love immediately with the postures and my first teacher, Maggie, also left a great impression. The greatest reason for getting to my second class was simply how I felt afterwards. In this light, while I never really loved practicing yoga before this, I truly fell in love with Bikram Yoga and the Troy Studio.

Jon: Well, I was one of those people that ignored the "take it easy" in your 1st class playbook. I went into class thinking I was going to do every posture and hold it to the fullest. Those looking at me, must of thought I was the subject of the Village People's hit "Macho Man". After going full speed for 20 minutes, I ran for the lobby (looking for my mommy and my lungs), and after five minutes "on the bench" learned very quickly the right approach of taking care of yourself. Despite running into that first wall, I got back into the room, took breaks, and like Lori, felt so great after class, that I was back in the studio two days later and haven't looked back since.



Happy smiling faces

What motivates you to maintain your Bikram Yoga practice?

Lori: The feeling that I get from practicing Bikram Yoga, the improved flexibility and balance, my improved immune system that almost never has me getting sick, and bonding with my husband who lovingly sets my mat up so I can breeze into Bikram a few minutes before class starts. I would have never thought that six years into the Bikram practice that Jon would be my biggest motivator and romantic companion, and I love that we share Bikram at home and when we travel together.

Jon: There are three things that motivate me. One, how I feel afterwards, as I've always felt amazing after class; Two, practicing with Lori, which is such a romantic way to hang out with the one you love in true health, and we are always pushing each other; Three, that I think that the Bikram practice has and will save my life. . . With the stress of my job, the extra weight I sometimes carry, and the wear and tear that sports has done to my joints over many years, I feel that staying in Bikram Yoga is essential to my quality of life, health and longevity.

Is there anything else you'd like to share with the community?

Lori: I love the friends, acquaintances and familiar smiling faces that I have met and seen over six great years. I think the teachers are dedicated and truly live the practice, and I'm grateful for their guidance in helping my practice grow and flourish. While some people don't always get my husband, I have to say that Jon has made me laugh and smile many times in class over the years and makes 90 hot, grueling minutes fly by for me.

Jon: My favorite Bikram experience has been working with Ian and Jenny on large outdoor collaborative classes including 400 students on the Riverfront this past summer. Also I love trying to get men my age into the hot room, who really need Bikram Yoga. I feel like I'm promoting one of the best things for life, especially with two great people like Ian and Jenny leading the studio.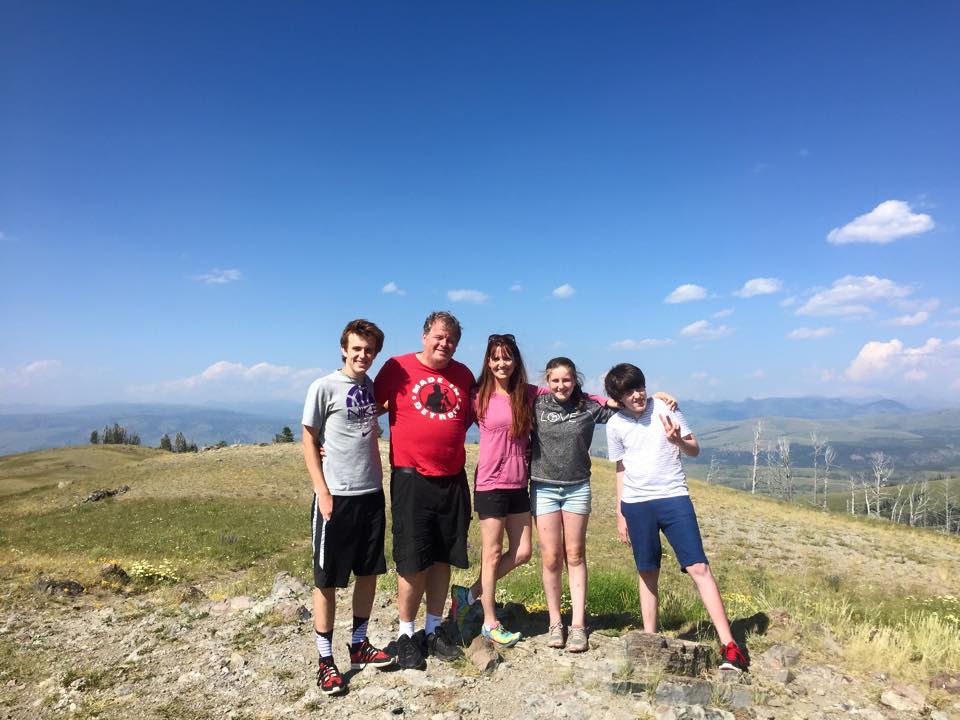 Witz family at Yellowstone